"STOP Wasting Your Valuable Advertising Dollars On Unprofitable Ads!..."
This Powerful Software Allows You To Easily Discover Which Keywords And Ads Are Generating Real Profits
Dear Friend
Do you know which of the keywords and ads you are using to promote your affiliate links are actually profitable?
If you're like most affiliates, you'll just buy lots of related keywords or lots of ads - and hope for the best.
You may know how many clicks each keyword or ad is generating - but have no idea how many of those clicks actually turn into sales.
Without this information, you're almost certainly pouring a lot of money down the drain -paying for visitors that have no interest in buying the product you're promoting.
If you knew exactly where your sales were coming from, you could stop paying for keywords and ads that lose you money - slashing your advertising costs.
You could also spend more on the keywords and ads that were making good money - or maybe buy the same keywords on other pay-per-click services - boosting your profits.
However, the problem is that it's not so easy to discover how many sales result from each individual keyword or ad.
Affiliate sales just appear in your affiliate account, with little or no associated information, leaving you with no idea where the sales came from.
But with Affiliate Keyword Tracker, you can have an easy way to track all your affiliate links and discover exactly how many clicks and sales are generated by each individual keyword and ad...
Track Pay-Per-Click Campaigns On Autopilot
If you use pay-per-click ads to promote affiliate links, Affiliate Keyword Tracker will track the number of clicks and sales for each keyword.
In the pay-per-click service (such as Google.com), just enter an Affiliate Keyword Tracker link as the URL to send traffic to. That's all you need to do.
The script will then automatically track keywords from the search engine and forward visitors to the appropriate affiliate link.
Simply go to the Affiliate Keyword Tracker admin feature at any time and it will show you a detailed summary of what keywords were used to find your site, which search engines they came from (in case you are using more than one Pay-Per-Click search engine) and how many visitors there were for each keyword/search engine combination.
Here's an example screenshot:
This is a very easy way to track pay-per-click campaigns to find out exactly what keywords are being used by your visitors.
Track All Other Ads On Autopilot
If you're promoting using other types of ads (such as ads on web pages or in ezines), you can use the Affiliate Keyword Tracker "sub-campaign feature" to tell how many clicks and sales come from each ad.
Don't worry about the techie-sounding name.
A "sub-campaign" is just a name chosen by you, for each ad. You can use any names you want - it's just a way for you to identify the ads.
Setting up a sub-campaign is a trivial process and takes about 2 seconds.
Affiliate Keyword Tracker will automatically track all your sub-campaigns.
Here's an example screenshot of the sub-campaign stats for an affiliate link:
This feature makes it really easy to discover exactly which ads are generating a response.
Automatically Track The Source Of Every Affiliate Sale
Affiliate Keyword Tracker will automatically track your sales for most affiliate programs.
Most affiliate programs, including those from Clickbank and Commission Junction, offer a sales tracking facility which allows you to include a "tracking ID" in your affiliate link.
Few people normally bother to use these tracking IDs as they are a bit "techie" - but Affiliate Keyword Tracker will manage them for you automatically.
Affiliate Keyword Tracker will track sales through the following affiliate services...

Commission Junction

ClickBank

LinkShare

Shareasale

MaxBounty

Direct Track system (includes Clickbooth, CPA Empire and many more)

Any other service or affiliate program which allows affiliate sales tracking

When you use Affiliate Keyword Tracker to track your keywords or ads, it will automatically insert a tracking ID into the affiliate links.
When you login to your affiliate account on Clickbank or Commission Junction (or whatever affiliate site you are promoting) and view any sales you have made, you will see a sales tracking ID number next to each sale.
Use the "Enter sale tracking IDs" option on Affiliate Keyword Tracker and enter these numbers.
Affiliate Keyword Tracker will automatically decode the ID to determine which keyword or ad it relates to - and then automatically increment the sales total for that keyword or ad.
Now when you view the detailed sub-campaign or pay-per-click stats for any affiliate link, you'll see the number of affiliate sales for each sub-campaign or keyword, as you can see in the example screenshot below:
Now you can immediately see which keywords are generating real affiliate sales - and which ones are losing you money.
Get Your Instant Tracking Solution Now...




Promoting affiliate programs through pay-per-click and other types of ad is one of the best solutions for generating an income online.

There's no customer support, no hassle and no risks. Just pay for the ads and then collect the commissions.

BUT with so many affiliates all competing for the same easy source of income, you need an edge over the competition.

You can't afford to waste valuable advertising dollars on unprofitable keywords and ads.

To discover which keywords and ads are actually profitable, you need tracking software like our superb Affiliate Keyword Tracker.

In view of the huge difference this software could make to your income, you might be expecting to pay hundreds of dollars for this great software.

But if you order today, you'll get your own copy.


Even though I'm offering this software at such a low price, I still want you to be 100% certain that it will really work for you.

That's why the software comes with my cast iron 30-day, no risk, 100% money-back guarantee...





Your 100%, No Risk, No Questions Asked,
Money-Back Guarantee



If you still have any lingering doubts about purchasing, let me reassure you now with the knowledge that your copy of this superb software is covered by my 100% cast iron, no questions asked, no risk guarantee.

If at any time during the next 30 days, you decide that this software does not meet your requirements, just shoot me a quick email and I guarantee to refund your money in full, no questions asked.

All this means you can take a full 30 days to check out all this great software for yourself, with no risk whatsoever.

In other words...you have everything to gain and nothing to lose!





I expect a lot of demand for this superb software, so this low price could increase at any time without notice.

So please don't delay. Order your copy right now...


Please Order Now


You'll receive instant access to your software, even if it's 2 o'clock in the morning.


Totally secure payment is through Paypal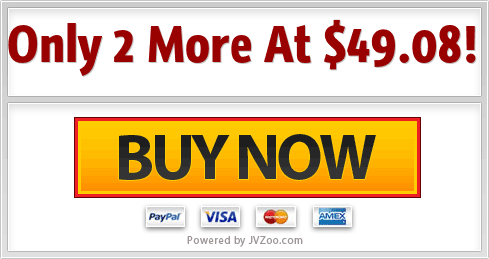 Requirements
This software is for use only on PCs running Microsoft Windows. The script requires a web host which supports PHP and SQL (most quality web hosts support these as standard).




Earnings Disclaimer
Although we provide powerful tools which can help boost affiliate profits, the results are dependent on many factors outside our control, including of course the quality and nature of your ads. We are not therefore able to give any guarantees about the level of income that you will attain by using this software. We will however happily refund your money in full in the unlikely event that you are unhappy with your purchase.


Please note that this software is for your personal use only and does not carry any form of resale rights.